Herd: Bellasara
Family: Mother Dowager; Father Valkrist; Brother Soot
Title: Emma's Steed
  Wings is Emma Roland's reliable steed. His large, feathery wings carry Emma near and far.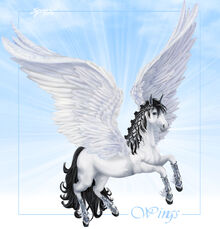 Appearance
Wings is a silver white stallion with an ebony mane and wavy tail. He has white feathery wings that are larger than most pegasi wings. His hooves are pure black, though they sometimes appear silver.
When he was old enough for Emma to ride him into the land of North of North, Sara gave him wings - a trait all Valkyrie horses have.
History
Wings is the youngest of the Valkyrie steeds and the only one to be born on Earth. His mother, Dowager, died an hour after giving birth to him. He and Emma have a close bond (almost as close as the bond between Bella and Sara) for it was he who brought Emma to North of North. 
Personality
Wings is supportive and very understanding. He is forever loyal to those close to his heart, especially Emma.
Inspirational Message
Believe in your friends and help them find their wings.
Bella Sara Adventures
In Bella Sara Adventures, Wings is found in Canter Farms. His favourite food is a daisy grown fresh from the clouds.