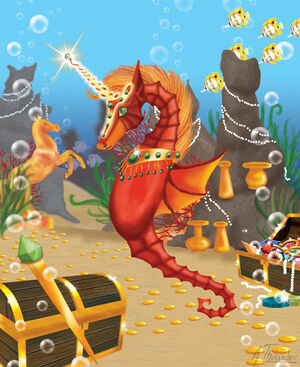 Herd: Islandar
Title: King of Herd Islandar
Family: Mate Edana, Filly Kora, Colt Brine
Treasure: Treasure Chest
Appearance
Treasure is a classic seahorse with a red-orange body and dorsal fin. His mane is golden, as well as his unicorn horn. He is often seen wearing a jewel-encrusted necklace.
Personality
Treasure enjoys shiny things and hunts for them to adorn his castle.
Magical Gift
He is a seahorse, of course! He can breathe underwater and has an uncanny ability to find treasures.
Inspirational Message
"Follow me beneath the waves. See the beauty and the space."
Gallery
Ad blocker interference detected!
Wikia is a free-to-use site that makes money from advertising. We have a modified experience for viewers using ad blockers

Wikia is not accessible if you've made further modifications. Remove the custom ad blocker rule(s) and the page will load as expected.