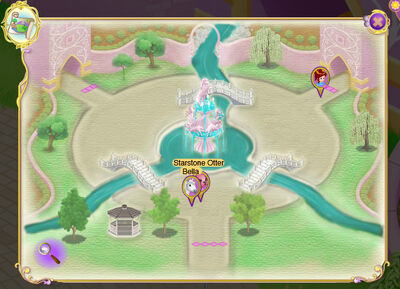 The Fountain Plaza is an area in Bella Sara Adventures.
Characters
Bella is at the entrance to The Fountain Plaza to greet you and introduce you to the world of Bella Sara.
Starstone Otter
After saving her from the wolf in Canter Farms, Starstone Otter moves here to stand with Bella and tell her about what Ivenna is up to.
Lien
After unlocking Bella's Ball cards, you will unlock Lien. She will need you to grow papyrus and indigo for invitations, and then hand-send them to Fiona, Jewel, Nike, and Thunder. Her favorite food is blue flag irises.
Connected to