Herd: Starlight
Family: Mate Aurora, Filly Dawn, Colt Dusk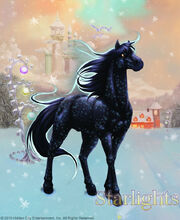 Appearance
Rimfaxe is a deep indigo stallion with black eyes that sometimes appear as citrine. His coat is dotted with bright stars because he is a horse of Herd Starlight. 
Magical Gifts
Since he is such an unearthly horse, Rimfaxe is probably a windwalker.
Inspirational Message
"Give others the gift of your love."