Herd: Sunflower
Title: Grass Sea Coach Horse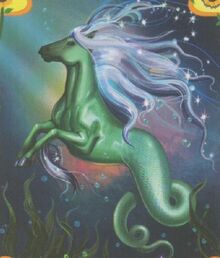 Appearance
Reed is a sea green hippocampus with lavender mane, tail, hooves, and feathering. He has no fins, just a serpent-like tail. His mane leaves trails of sparkles behind.
Inspirational Message
"Don't be afraid of changes. They can deepen your friendships."
Ad blocker interference detected!
Wikia is a free-to-use site that makes money from advertising. We have a modified experience for viewers using ad blockers

Wikia is not accessible if you've made further modifications. Remove the custom ad blocker rule(s) and the page will load as expected.