Herd: Mustang
Titles: Lady of Herd Mustang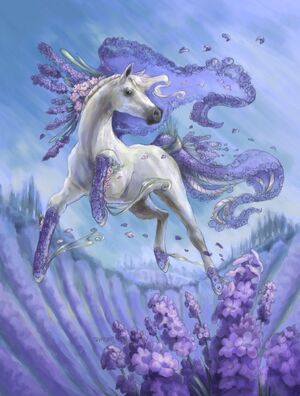 Appearance
Potpourri is a white mare with a wavelike purple mane and tail filled with flowers. Her lower legs are wrapped in similar purple and silver ribbons. Her tail seems to be strung with silver rope as well.
Inspirational Saying
"Be aware of your feelings and listen to what is alive in you."
Ad blocker interference detected!
Wikia is a free-to-use site that makes money from advertising. We have a modified experience for viewers using ad blockers

Wikia is not accessible if you've made further modifications. Remove the custom ad blocker rule(s) and the page will load as expected.