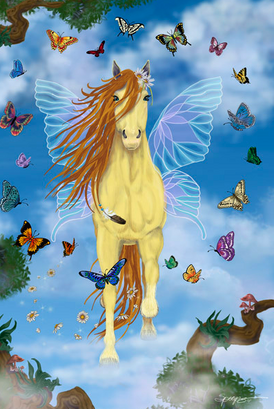 Herd: Mustang
Appearance
Osage is a horse with butterfly wings. She has a light yellow coat with a light orange mane and tail, her hooves are light gray and she has two daisies next to her ear. In one of the strands of her mane she has a feather with two beads.
Tribe
Osage is actually the name of a Native American tribe. It became the richest tribe due to the discovery of oil in Oklahoma. The tribe lived in Missouri and Kansas as well.
Magical Gift
Osage can fly higher than other winged horses, which is strange because her wings are small. She leaves a trail of daisies behind her as she flies.
Personality
Osage is an independent horse. She is carefree and worries about nothing.
Her Companions
Osage's companion are butterflies as you can see from the picture above.
Inspirational Message
"Be free to change your mind"