Herd: Sunflower
Family: Mate Cinnamon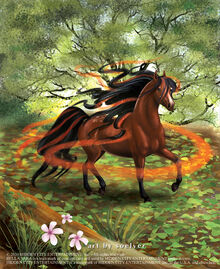 Appearance
Nutmeg is a chocolate bay horse. He has black stockings on all four legs, and green eyes. There is a snippet of white on his nose, he has deep brown hooves, and there are pale leaf-shaped markings on his behind.
Personality
Nutmeg is a bit of a conservationist. He is always careful not to crush plants under his hooves, and he loves to make friends with animals.
Magical Gifts
As he moves, his mane and tail leave tendrils of smoke that smell like nutmeg.
Inspirational Message
"Protect nature. It is unique, just like you are."
Ad blocker interference detected!
Wikia is a free-to-use site that makes money from advertising. We have a modified experience for viewers using ad blockers

Wikia is not accessible if you've made further modifications. Remove the custom ad blocker rule(s) and the page will load as expected.