Herd: Elemyn
Family: Mother Colour, Father Bifrost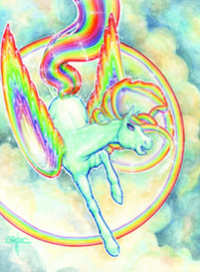 Prisma
Prisma is a playful young pegasus filly with a body made of pale blue mist. She loves to have fun and fly among the clouds. She is much like her mother, Colour, with rainbow wings, mane, and tail. She leaves a rainbow trail from her mane as she flies.
Saying: You have the power to control the way you react.
Chromasia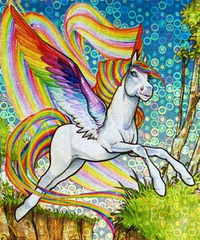 Chromasia is a white pegasus filly with a rainbow mane and tail like her mother Colour and rainbow wings like her father Bifrost. She is probably the calmest of the three sisters.
Saying: The sweet sound of your voice makes me smile.
Mistral
Mistral is a white windwalker filly who is very energetic, playful and brave. She can change the colour of her mane and tail, but she prefers bright orange. Her eyes are turquoise, and her mane and tail appear to be almost infinitely long.
Saying: Do what you mean to do.