Herd: Valeryk
Family: Mate Derik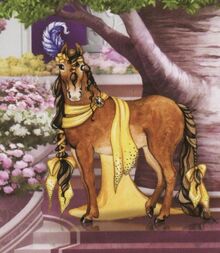 Appearance
Misa is a bay horse with a soft black mane, tail and hooves. She has a lighter colored underbelly and muzzle. Misa has very delicate features and large, dark eyes. At Bella's Ball, she wears a yellow rug with rhinestones at the edges, a yellow ribbon around her neck that is held in place by a gold and purple pin, and a purple feather fastened into a yellow ribbon with a yellow flower attached to it. She has her mane and tail braided up into yellow ribbons with bows decorated with rhinestones at the end of them.
Personality
Misa is very gentle and charitable. She likes to play with the herd's foals and tell them stories about the history and legends of North of North. Even though she and Derik don't have any foals of their own, Misa is a joyful and peaceful mare.
Inspirational Message
"Being generous is the first step toward being happy."
Ad blocker interference detected!
Wikia is a free-to-use site that makes money from advertising. We have a modified experience for viewers using ad blockers

Wikia is not accessible if you've made further modifications. Remove the custom ad blocker rule(s) and the page will load as expected.