Herd: Islandar
Title: Page of Herd Islandar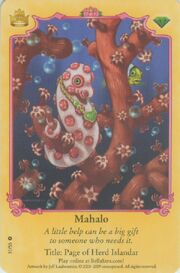 Appearance
Mahalo is quite a strange horse, even for a hippocampus. His snout isn't that horselike (or seahorse-like), and he doesn't seem to have any ears or fins! Aside from that, he is a whitish-pink seahorse colt with red lumps all over his body (coral, perhaps). He wears a green Islandar pendant around his neck.
Magical Gifts
Mahalo must have some way to hear and swim... magic, perhaps?
Inspirational Saying
A little help can be a big gift to someone who needs it.
Ad blocker interference detected!
Wikia is a free-to-use site that makes money from advertising. We have a modified experience for viewers using ad blockers

Wikia is not accessible if you've made further modifications. Remove the custom ad blocker rule(s) and the page will load as expected.