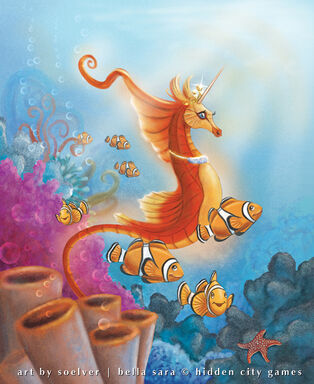 Herd: Islandar
Title: Princess of Herd Islandar
Family: Father Treasure, Mother Edana, Brother Brine
Appearance
Kora is very similar in appearance to her father, Treasure - she really looks like a seahorse! She has a red body with an orange belly. Her finlike mane is a mix of the colors, while her horn is gold.  She has a golden tiara and a beautiful golden necklace with glittering pearls in the middle.
Personality
Kora is a bit of a loner, preferring to spend time with her fish friends than other horses. She enjoys swimming in the coral reefs.
Inspirational Message
"I am proud to be your friend."
Ad blocker interference detected!
Wikia is a free-to-use site that makes money from advertising. We have a modified experience for viewers using ad blockers

Wikia is not accessible if you've made further modifications. Remove the custom ad blocker rule(s) and the page will load as expected.