Herd: Sunflower
Title: Steward of Herd Sunflower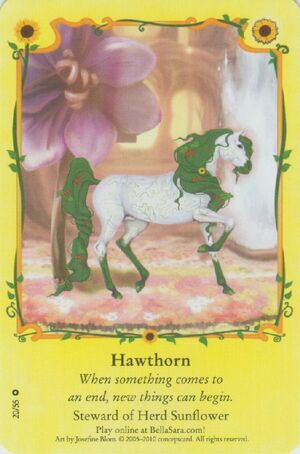 Appearance
Hawthorn is a white stallion with green mane, tail, hooves, and stockings. His mane and tail are woven with red and yellow flowers. He has green hawthorn leaf markings on his body, though these are hard to see.
Inspirational Message
"When something comes to an end, new things can begin."
Ad blocker interference detected!
Wikia is a free-to-use site that makes money from advertising. We have a modified experience for viewers using ad blockers

Wikia is not accessible if you've made further modifications. Remove the custom ad blocker rule(s) and the page will load as expected.