Herd: Sunflower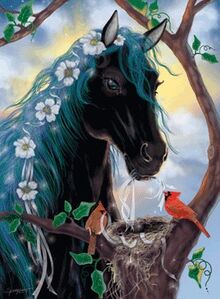 Appearance
Generosity has a black coat and hooves with a beautiful wavy turquoise mane and tail that have daisies and translucent ribbons woven into them. Her eyes are sapphire blue with turquoise highlights. 
Personality
Generosity is very, well, generous! She often uses the ribbons from her hair to put a finishing touch on one of her bird friend's nests. Generosity loves cardinals, and can be seen at many times galloping around the fields with them.
Inspirational Message
"Find love by making someone else's day brighter."
Ad blocker interference detected!
Wikia is a free-to-use site that makes money from advertising. We have a modified experience for viewers using ad blockers

Wikia is not accessible if you've made further modifications. Remove the custom ad blocker rule(s) and the page will load as expected.