Herd: Sunflower
Family: Mate Skipper; Filly Bluebell; Colt Tumbleweed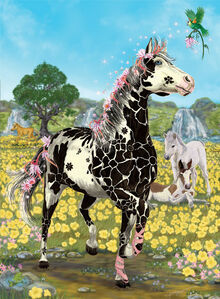 Appearance
Flora is a pinto whose black spots make the shape of flowers all across her body. Her mane and tail are gray with strands of white here and there, and they have coral ribbons and pink flowers placed throughout them. Flora's eyes are blue and her muzzle is pink. She has black hooves, and pink ribbons wrapped around her front lower legs. At Bella's Ball she wears a drapey hot pink cloak/gown with ruffles along the edges and fabric roses in a few places.
Personality
Flora is not afraid to trust others, and she shines like a sunflower when she "opens her petals."
Inspirational Message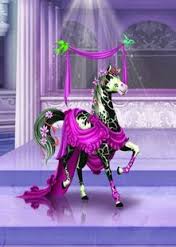 "Open like a flower and show your inner beauty."
Ad blocker interference detected!
Wikia is a free-to-use site that makes money from advertising. We have a modified experience for viewers using ad blockers

Wikia is not accessible if you've made further modifications. Remove the custom ad blocker rule(s) and the page will load as expected.