Herd: Pantheon
Treasure: Waymaker Key
Appearance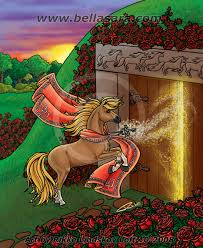 Epona is a palomino mare with four white socks and a dark muzzle. She has a red scarf with gold embroidery, as well as the magical Waymaker Key, around her neck.
Inspirational Message
English: "Thank you for being honest with me and with yourself."
French: "Je te remercie d'être honnête avec moi et avec toi-même."
Ad blocker interference detected!
Wikia is a free-to-use site that makes money from advertising. We have a modified experience for viewers using ad blockers

Wikia is not accessible if you've made further modifications. Remove the custom ad blocker rule(s) and the page will load as expected.