Herd: Bellasara
Title: Gaurdian of the Rolanddotter Orchid Garden and Chatelaine of Herd Bellasara
Family: Mate Valkrist; Colts Wings and Soot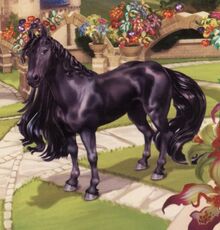 Appearance
Dowager is a shiny coal black mare. She has a long, wavy mane and tail and dark eyes.
Personality
Although she originally died after giving birth to Wings, after she passed, she was transported to North of North. Wings and Soot were overjoyed to find their mother alive and well during their quest for Herd Sunflower. Dowager is inclined to see the brighter side of things, and loves the orchid flowers that she attends to.
Inspirational Message
"Your kindness is as beautiful as a garden full of flowers."
Ad blocker interference detected!
Wikia is a free-to-use site that makes money from advertising. We have a modified experience for viewers using ad blockers

Wikia is not accessible if you've made further modifications. Remove the custom ad blocker rule(s) and the page will load as expected.