Herd: Unknown
Family: Mother Mandalay, Father Charlie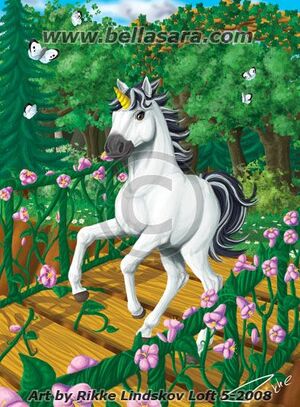 Delight
Delight is a white unicorn filly with a black muzzle and a black and white mane and tail. She has a golden horn like her mother, but her build is more like her father's. She is a very kind, social filly. Not only is she nice to everyone she meets, she has a certain charm to her that causes many to like her at first sight.
Message: Being kind to someone makes both of you feel good.
Summit
Summit is a small brown colt with a tan and white mane and tail. His muzzle is black, and he has a distinctive mark on his forehead where a horn should be. He has appaloosa markings on his hindquarters and a wide blaze on his forehead. His appearance is very similar to his father's. Summit is a bit of a daredevil, but seems to always get out of sticky situations.
Message: Being with others and being alone can both be beautiful.
Ad blocker interference detected!
Wikia is a free-to-use site that makes money from advertising. We have a modified experience for viewers using ad blockers

Wikia is not accessible if you've made further modifications. Remove the custom ad blocker rule(s) and the page will load as expected.