Herd: Starlight
Title: Chatelaine of Herd Starlight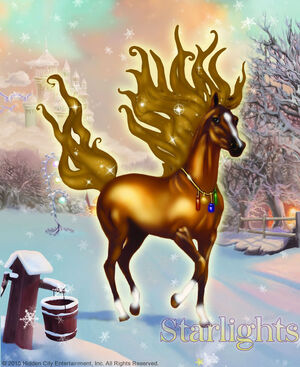 Appearance
Celestelle is a glistening dark palomino mare with four white socks and a thin white stripe down her face. Her sparkling brassy mane is extremely long and wavy. She wears the keys to Herd Starlight's castle around her neck.
Magical Gift
Celestelle is most likely a windwalker - she can fly without wings.
Inspirational Saying
Give yourself success tomorrow by living well today.
Ad blocker interference detected!
Wikia is a free-to-use site that makes money from advertising. We have a modified experience for viewers using ad blockers

Wikia is not accessible if you've made further modifications. Remove the custom ad blocker rule(s) and the page will load as expected.