Herd: Unknown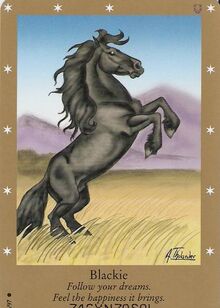 Appearance
Blackie is a small Friesian stallion. He has a firm conformation and a little bit of feathering. His mane and tail are black and very wavy.
Personality
Looking at Blackie's inspirational saying, he's a confident guy who's focused on following his dreams.
Magical Gifts
Blackie has no known magical gifts or abilities.
Inspirational Saying
Follow your dreams. Feel the happiness it brings.
Ad blocker interference detected!
Wikia is a free-to-use site that makes money from advertising. We have a modified experience for viewers using ad blockers

Wikia is not accessible if you've made further modifications. Remove the custom ad blocker rule(s) and the page will load as expected.