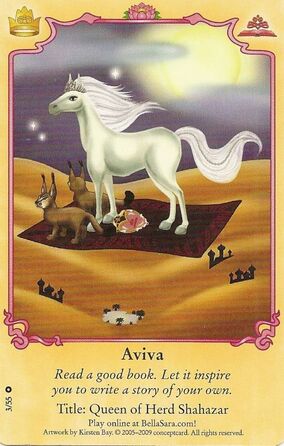 Herd: Shahazar
Title: Queen of Herd Shahazar
Family: Mate Nasim, Colt Shamal, Filly Sirocco
Apperance
Aviva is a very light grey mare with a white mane and tail that has gray highlights. Her hooves are gray as well, and her eyes are black.  
Magical Gift
With her magic carpet, she can fly over the desert sands and look down upon her kingdom.
Inspirational Message
"Read a good book. Let it inspire you to write a story of your own."
Ad blocker interference detected!
Wikia is a free-to-use site that makes money from advertising. We have a modified experience for viewers using ad blockers

Wikia is not accessible if you've made further modifications. Remove the custom ad blocker rule(s) and the page will load as expected.